Zimbabwean voters suppressed in opposition strongholds
On Wednesday 23 August, 2023, Zimbabweans went to cast their ballots to elect their next President out of the twelve presidential candidates. The main contest is expected to be between 80-year-old Mnangagwa, known as the "crocodile", and 45-year-old opposition leader Nelson Chamisa.
Voters in Zimbabwe expected the polling stations in the eleven provinces to have opened by 7:00am to enable them cast their ballots but this was not the case in some provinces such as Bulawayo and Harare that opened as late as shown in the table below.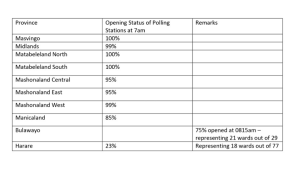 Source: Zimbabwe Electoral Commission
According to the Zimbabwe Electoral Commission, the delay in opening of polling stations in Harare and Bulawayo was largely caused by delays in printing of ballots papers and from numerous court challenges. The biggest question that begs answers was why were their numerous court cases in Bulawayo and Harare?
The secret known is that the two provinces are opposition strongholds and the move to delay opening was a voter suppression tactic intended to give advantage to the incumbent party in power by reducing the turnout of certain voters for the opposition.  This tactic also ensures that tallying of results starts from the incumbent stronghold which works for them by giving an impression that they are in lead.
The tactics of voter suppression ranging from changes that make voting more confusing or time-intensive, to intimidate or harm prospective voters undermines the civil and political rights, principles of free expression and right to vote which are very fundamental in ensuring that citizens participate without interference in the decision making process of their country.