Previous Occupations of Political Candidates in Uganda's 2021 general elections.
With Uganda's politics being highly monetised and commercialised, many men and women who offer themselves for elections no longer do so to serve but to make a living.
To many, being elected into political office is a job with which they must recoup their campaign investment with abnormal profit. Analysis from an ACFIM study on Campaign Financing for Uganda's 2021 general elections indicates that 43.3 percent of the candidates monitored were career politicians – either incumbents or previous losers coming back or upgrading from Local Government politics to national politics.
The candidates who left business to join politics accounted for 23.8 percent of the candidates monitored. This percentage is followed by the category of former civil servants that resigned their positions from government ministries, departments and agencies to join politics who accounted for 20.1 percent of the total number of nominated candidates. The figure below provides details of the previous occupation of candidates.
Analysis of Previous Occupation of Political Candidates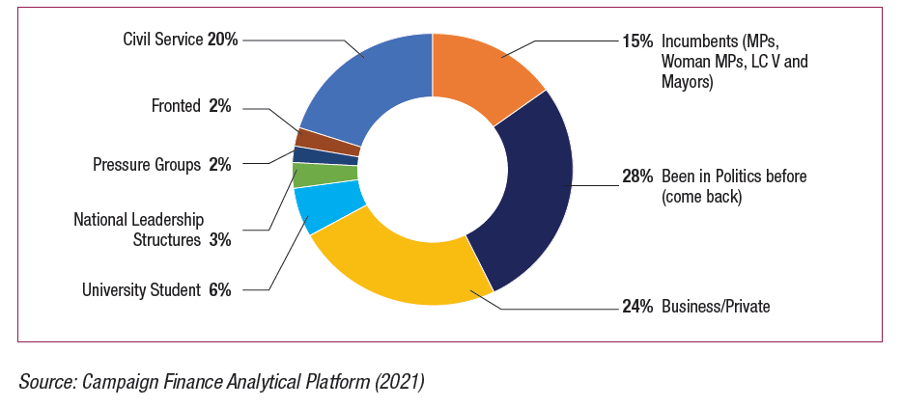 Unlike now, 75 of the total 92 members in Uganda's first parliament/ Independence parliament had been in the teaching profession before they joined the August house.
An article by Daily Monitor, a Ugandan news daily recently covered how these former teachers influenced that first Parliament which has on many occasions been described as the best parliament Uganda has ever had.
The 75 former teachers turned Members of Parliament are remembered for their input in the drafting of the first post-independence National Budget (1962/63) National Budget which dedicated 27 percent of the government expenditure to the Ministry of Education which was the lion's share of the budget.
Unlike the "independence parliament", more recently, candidates from the business and private sector seem to be more interested in attaining local government and parliamentary political positions. ACFIM's study on Uganda's 2021 general elections indicates that 23.8 percent of the candidates monitored were from the business and private sector which had a significant proportion of aspirants monitored. (see figure above)
Another study by ACFIM on Commercialised politics and captivity of State Institutions in Uganda reveals that majority of these candidates do not hide their intention and even publicly declare that their intent to offer themselves is not to serve but to gain access to the cake table. They often use such slogans as "nange mumpe ngende ndyeko" (vote for me so that I can also go and eat), and the voters have often responded positively by voting for them. Once elected, political leaders in Parliament and local governments devote their energies on recouping their campaign investment than effective and ideological representation which can be referred to as "politics of commercialism and mercantilism".
Perhaps there is a likelihood that the deterioration in quality of debate during plenary and the quality of political leadership across board down to local government levels is because of many of the people joining politics are merely political merchants. Majority of these are no longer patriotic or willing to serve but just want to make money, a tragedy for Uganda.